by Jane Brandi Johnson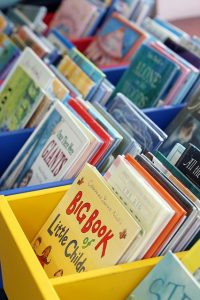 Okay, Be honest! Did your kids do a "COUNTDOWN" for the last 10 days
of school?
10-9-8-7-6-5-4-3-2-1- SUMMER!!!!!!
Well, Now it's time for your kids to do a "COUNTUP!"
What's that?
Just count up the number of books your child can read this summer!
Tell them that "READERS ARE LEADERS!"
1-2-3-4-5-6-7-8-9-10 …. infinity!
* Motivate them—find colorful, fun, inspiring books to spark
imagination
* Set achievable goals—use reading charts, graphs, or visuals. Be
creative! It's fun to see charted progress!
* Explore online sites
* Visit the library. This opens the door (literally) to more excitement!
* Make up personal stories! Fun!
If your child reads 12 or more books this summer, please contact Jane
Brandi Johnson at jbjtampabay@aol.com for the chance of a free door
hanger and/or an autographed book!
Suggestions to help build your child's reading skills*:
Babies
• Read to your baby for short periods several times a day. As you read, point out things in the pictures. Name them as you point to them. Cardboard or cloth books with large simple pictures of things with which babies are familiar are the best books to begin with.
Children Ages 1-4
• Talk with your child as you read together. Point to pictures and name what is in them. When he is ready, ask him to do the same. Ask him about his favorite parts of the story, and answer his questions about events or characters.
• Wherever you are with your child, point out individual letters in signs, billboards, posters and books. When she is 3 to 4 years old, ask her to begin finding and naming some letters.
Children, Kindergarten
• Read predictable books to your child. Teach him to hear and say repeating words, such as names for colors, numbers, letters and animals. Predictable books help children to understand how stories progress. A child easily learns familiar phrases and repeats them, pretending to read.
• Practice the sounds of language by reading books with rhymes and playing simple word games (i.e. How many words can you make up that sound like the word "bat"?)
Children, First Grade
• Point out the letter-sound relationships your child is learning on labels, boxes, newspapers and magazines.
• Listen to your child read words and books from school. Be patient and listen as he practices. Let him know you are proud of his reading.
Children, Second & Third Grade
• Build reading accuracy by having your child read aloud and point out words she missed and help her read words correctly. If you stop to focus on a word, have your child reread the whole sentence to be sure she understands the meaning.
*Taken from the U.S. Department of Education "Helping Your Child Become A Reader" and The Partnership for Reading "Put Reading First" publications.