Here's a little challenge for the fun of it!  
                       Post your score on Facebook!  10/10 is a WIN!  
A history challenge:
 When was "The Wonderful Wizard of Oz" by Frank Baum first published?  It quickly became a best-seller!
A.  1880
B.  1900
C.  1930
2.  What was the first year the Newberry Award was given?
A.  1922
B.  1942

C.  1952
A statistical challenge:
3.  Approximately how many copies of this book have sold?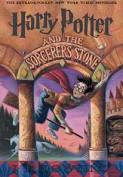 A. 107 million
B.   88 million
C.  60 million
A Medal /Award challenge:
4.  How many books are awarded the Caldecott Medal each year?
A.  one

B.  two
C.  four
5.  Which of the following was awarded a Newberry Award in 1961?
A  Island of the Blue Dolphins by Scott O'Dell
B.  The Giver by Lois Lowry
C.  The Girl Who Drank the Moon by Kelly Barnhill
A character challenge:
6.  What name did the girls give to the dog in the book, Madeline's Rescue?
A.  Quinten
B.  Anastacia
C.  Genevive
7.  What is the name of the pig in Charlotte's Web by American author E. B. White?
A.  Wilbur
B.   Weston
C.   Sander
A name challenge:
8.  What is Dr.Seu
ss' real name?
A.   Jonathan D. Conner
B.   Theodor S. Geisel
C.  Charles A. Goodwin, III
9.  Who do you see in this drawing?
A.  Aladdin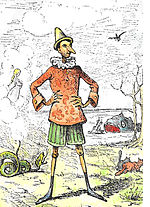 B.  The Wizard of Oz
C.  Pinocchio
10.  Which of the following is NOT a character in The Jungle Book by English author Rudyard Kipling?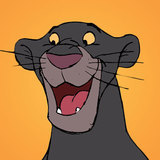 A.  Mowgli
B.  Roo
C.  Kaa
Okay—here are the answers!  How did you do?
B-A-A-A-A-C-A-B-C-B