by Jane Brandi Johnson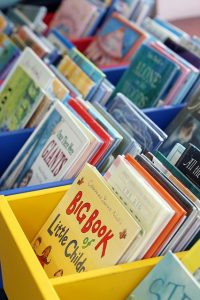 Okay, Be honest! Did your kids do a "COUNTDOWN" for the last 10 days
of school?
10-9-8-7-6-5-4-3-2-1- SUMMER!!!!!!
Well, Now it's time for your kids to do a "COUNTUP!"
What's that?
Just count up the number of books your child can read this summer!
Tell them that "READERS ARE LEADERS!"
1-2-3-4-5-6-7-8-9-10 …. infinity!
* Motivate them—find colorful, fun, inspiring books to spark
imagination
* Set achievable goals—use reading charts, graphs, or visuals. Be
creative! It's fun to see charted progress!
* Explore online sites
* Visit the library. This opens the door (literally) to more excitement!
* Make up personal stories! Fun!
If your child reads 12 or more books this summer, please contact Jane
Brandi Johnson at jbjtampabay@aol.com for the chance of a free door
hanger and/or an autographed book!